Policy
In India water is a very precious commodity for both domestic and agrarian usage. Water affects agricultural productivity and thus is very essential for economic sustainability. Indian government has taken up a challenge in current fiscal budget focusing on irrigating 28.5 lakh hectares . This target can be achieved in areas accessible to major rivers. For Arid and Semi Arid regions there has to be alternate approach. So Indian Government in this budget has allocated 85% more funds than previous budget for harvesting ground water. These funds might be utilized under the existing programs like "Integrated Watershed Management Program [IWMP]".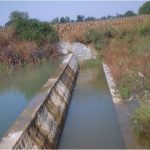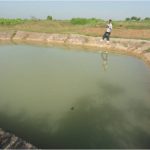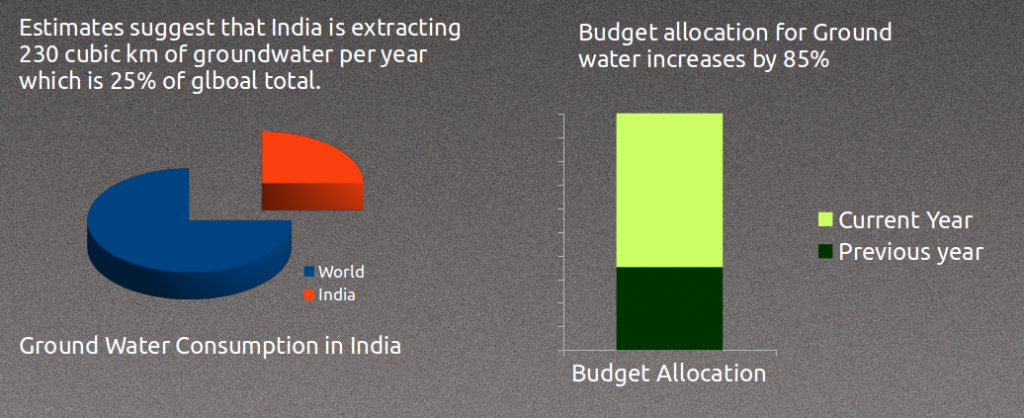 Under IWMP farmers are encouraged to construct farm structures like farm ponds, bunds etc., for ground water recharge. These help them to harvest rain water, avoid runoff, improve storage and thus improve the water table. These measures help overall water retention in the watershed. Agricultural productivity, availability of fodder increase in the watershed area. Many not for profits and local governing bodies (usually known as project implementing agencies-PIA) are funded by both central and state government for watershed management activities such as these.
Technology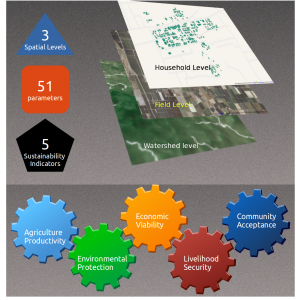 Watershed management is a continuous process and monitoring the efficiency and sustainability is a challenging task. Central Research Institute for Dryland Agriculture (CRIDA) derived a methodology to monitor & evaluate watershed projects by capturing 51 parameters. These parameters are segregated based on the five aspects of sustainability as shown in the diagram.
Current Approach in Watershed Management
Detailed field survey is done for gathering field parameters and aggregating them under 3 spatial levels viz., household level, farm level and watershed level. These parameters are assigned scores and quantitatively analyzed for assigned critical indicators of sustainability. The methodology developed by CRIDA is quite an elaborate one and helps project implementation agencies (PIAs) to evaluate their 3 year long watershed management and plan strategies at regular intervals. This methodology involves
Data gathering
Evaluation of current approach
Create strategies to improve sustainability score
Challenges and the Solution
There are two primary challenges for CRIDA in taking this to PIAs.
Cost of Technology
Multiple tools
To reduce the cost of Technology for PIAs Open Source tools like gvSIG,SAGA, QGIS are very good alternatives. But there are too many tools to adapt. KAIINOS and CRIDA are working to develop "Jal-Decision support system (Jal-DSS)", which acts like an integrated platform for watershed management. In its prototype phase Jal DSS will be a desktop tool with both spatial and statistical components which helps PIAs to visualize data. This prototype will be tested in field for both its utility and cost effectiveness. Once this testing is done a full scale Web enabled Decision support system for evaluating watershed sustainability indicators will be developed.
This platform will be capable of helping PIAs in
Gathering field data with mobile application
Geotagging the data gathered
Synchronizing it with a central database for analysis
Retrieving scores and suggestions for strategy making
Watershed Management – Policy aided by Technology