Make In India campaign by the current government touching 2.1 billion impressions in Social media shows that there is a huge excitement in the market about the opportunities that India can provide. India being a consumer centric market is trying to change itself into a producer centric one as well. For this to happen infrastructure acts as a good catalyst for firms willing set up their production units in India. This blog is an effort to analyze the infrastructure potential of the country.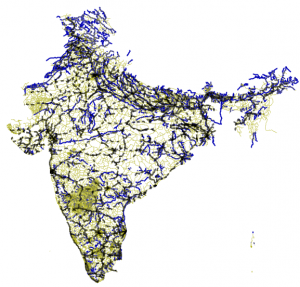 India has a very good road and rail connectivity. Many states of the country even have waterways. As shown in the map the transportation network in India is very dense. In a situation with such a complex data, performing analysis and extracting knowledge from that can be a very challenging task. Given this data
How to find out which is the best place for setting up a plant?

How to figure out the connectivity?

Are all states having same infrastructure? (The map might be misleading us. Do we need to classify the data)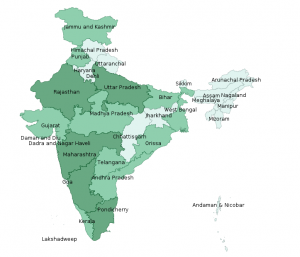 This blog is an effort to find out answers for such questions. Spatial extent of the road network (downloaded from osm), was used to classify the states of India based. Transportation network map shows that, most of the states have good connectivity and this classified map confirms that. But this is a very macro picture and will this hypothesis stands at district level as well is something that has to be verified. A spatial drill down analysis gave the district level classification map shown in the figure.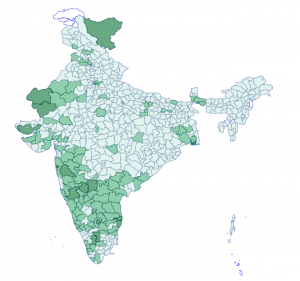 But there are many gaps at district level. The spatial distribution of roads is not very uniform across the country except for certain pockets in West and Southern India. This map shows that districts along the coast in Western part of the country have very good connectivity. As make in India campaign is about making India a world-class export hub infrastructure like seaports and airports are also important along with road and rail connectivity. A comprehensive analysis of all the infrastructure can give a fair idea about good clusters for exports.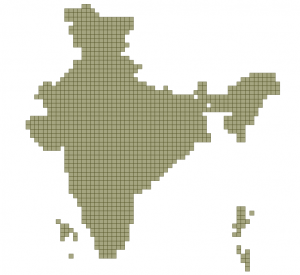 India is divided into grids, and for the sake of simplicity export cluster is defined as grids having rail, sea and air connectivity. So the task now is to find out these grids in the map. From Open data Sources spatial data of airports and seaports have been taken for the analysis. After finding out grids with airports, seaports and other connectivity, spatial buffering was used to find out district clusters with best connectivity.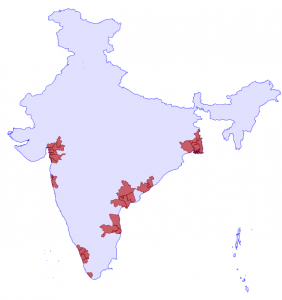 For export cluster to thrive it is assumed here that there should be good man power available. Urban settlements data has been integrated into this analysis to narrow down the clusters. In total there are 8 clusters in India which satisfy the definition given above. There are 4 clusters in west coast and 4 clusters in east coast which have seaports, airports, rail and good road connectivity along with major urban human settlements. This analysis can be further enhanced and parameterized for other infrastructure facilities such as dams, reservoirs, energy installations etc. This macro analysis can be drilled down to a specific region with good spatial and auxiliary data to find out suitability to certain business establishments in qualitative manner.
note: Open data sources used in this blog might not be very accurate and so are the results. 
Make In India – Indian Infrastructure